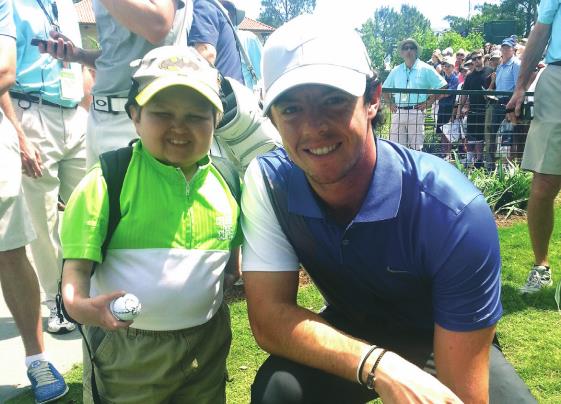 It started out as another
normal day at the golf course back
in 1993 for PGA Professional Russ
Holden, who was still pursuing a
dream of one day playing on tour
as he worked at Woodfield
Country Club in Boca Raton,
Florida, as the head golf teaching
Chris Collins, a former Major
League Baseball pitcher for the
California Angels, who had
Tommy John arm surgery ending
his pitching career, stopped in to
ask Holden if he knew of any jobs
in the golf industry. He said he
didn't need much money but just
wanted to start a new career.
Christian family men with a
couple of sons each, hit it off right
away. Holden gave Collins a job in
the bag room, as that was the only
position open. He was a bit
overqualified, but God had a plan.
The relationship grew, and
when Collins' son Christian was
born, the lives of bothmen would
change forever. Christian was
born with an inherited bone
marrow disease called Fanconi
Anemia. Holden says, "I knew
right away that somehow, some
way I needed to help my brother."
Caddying for Master's
Champion Bernhard Langer
blessed with an opportunity to
start caddying, part time at first
and then eventually full-time,
Champion, Bernhard Langer. "I
always wanted to be a player on
the Tour, but being a caddie was
the next best thing, and being
the assistant for one of the top
golfers in the world was a true
Then in 1998, the Collins
family gave birth to Calen, a
second child now born with
Fanconi Anemia. This thrust
Russ' prayers and dreams of how
he could help the Collins' into
transplants were a necessity to
give these young children any
Caddy For A Cure officially tees
off in 2002
several years of research and hard
work, Russ and his wife, Colleen,
started Caddy For A Cure and
qualified for the 501-c-3 non
profit designation. Taking the
mission and vision on the road,
Russ quickly got the support of
the PGA Tour players to work
alongside them to help raise
"While I was caddying with
Bernhard Langer, I realized that
people would love to trade
places with me. So we built this
model as a way for people to live
out their golf fantasies inside the
ropes while donating to a great
cause and spending a day on the
course with names like Phil
Mickelson, Rory McIlroy, Bubba
Watson, Zach Johnson and even
Christian Collins becomes
National Spokesperson for
CFAC
While Christian Collins, the
spark that drove Holden's passion
to make a difference, is doing well
as a healthy now-21 year old,
there are many others who have
lost their fight with Fanconi
struggling. Collins is now proudly
Spokesperson for Caddy For A
Cure, traveling frequently on the
PGA Tour and spreading the
word about Fanconi Anemia, as
well as the other charities that the
transplants, Christian and his
younger brother, Calen, are now
both active at CFAC Fundraising
WoundedWarriors go inside
the ropes with CFAC
struck the heart of Russ Holden
while in San Antonio, Texas,
Warriors being escorted down
the 18th green. "This was a
hallmark achievement, and my
love for the military and our great
country lead me to reach out and
bring the Wounded Warriors a
chance to enjoy a day of golf and
partner with Caddy for a Cure."
Birdies for the Brave became
another charity in 2011 reaping
the rewards as a partner program
for Caddy For A Cure. "Through
this great game of golf, we have
been able to partner with many
organizations, including the
Navy Blue Angels Foundation,
and support warriors on various
levels. Contributing to Birdies
for the Brave as one of our core
charities is a perfect fit, and we
look forward to offering caddy
experiences inside the ropes
for members of our military,"
7th Annual Fundraising Golf
Tournament set for Parkland
in December
the 7th Annual Caddy For ACure
fundraising golf tournament in
support of our wounded military,
children and families facing
serious illness and life threatening
diseases will take place at
Parkland Golf Club as part of the
Liberty Mutual Invitational.
National Spokesmen, Christian
Collins and brother Calen –
"Batman and Robin" – will be on
hand, as well as many Wounded
Warriors. The day will also
include a presentation by
Sergeant Timothy Bohall of
American Fallen Soldiers.
Since its inception over 12
years ago, over $1.5 million has
been raised for various charities,
with the vision to keep expanding
and growing events. Several
sponsors, including Callaway
Golf, Sharpie, Jet Blue, Emerick
Construction, and others, have
stepped up to show their support.
Corporate packages are available
online, along with auctions for
upcoming caddying events with
"It continues to amaze and
humble me that the program we
dreamed about 12 years ago as a
way to help fight the horrible
disease of Fanconi Anemia and to
support our U.S. Military is alive
and thriving," concludes Holden.
Carl Foster is the marketing
executive/event manager with the
Good News of Florida and
Blackstone Media Group. To
contact him, please email him at
Carl@goodnewsfl.org
LOCAL